Pedro Loma and Renato Morales
Brazilian studz, Pedro Loma and Renato Morales are our guests for today's update. Renato had the best surprise this afternoon when he saw Pedro lying on his living room couch, naked, wanking off his big dick. He was staying with him for a couple of days until his landlord finished renovating his condo. Pedro really felt like home and did everything he would normally do if he was at his place. His routine was kind of repetitive, waking up, watch some porn, going to work, returning, watching some more gay porn. So yeah, you can easily guess what he likes doing when he has some free time on his hands.
Pedro didn't change his routine at all while he was staying with his buddy and this was the first time he caught him in action. Naked, wanking off his dick, there wasn't a lot he could say to explain because everything was as clear at it could be. Renato wanted to get his hands on his dick for a while now so this worked out perfectly for him. He took off his clothes and joined him on the couch and continued watching the video together. Things escalated pretty fast and in no time the guys were wanking one another's dick and then hammering their asses. Pedro finally got the action he wanted and not from gay porn. Enjoy it and we'll see you next time with more brazilianstudz updates or visit the http://www.transsexualroadtrip.net site and see some big cocked shemales jerking off!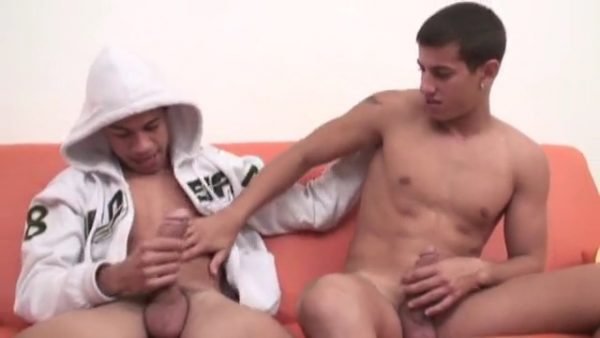 Click here to see these studs wanking off their dicks!